Top 4 Reasons You Want To Replace Your Garage Door Opener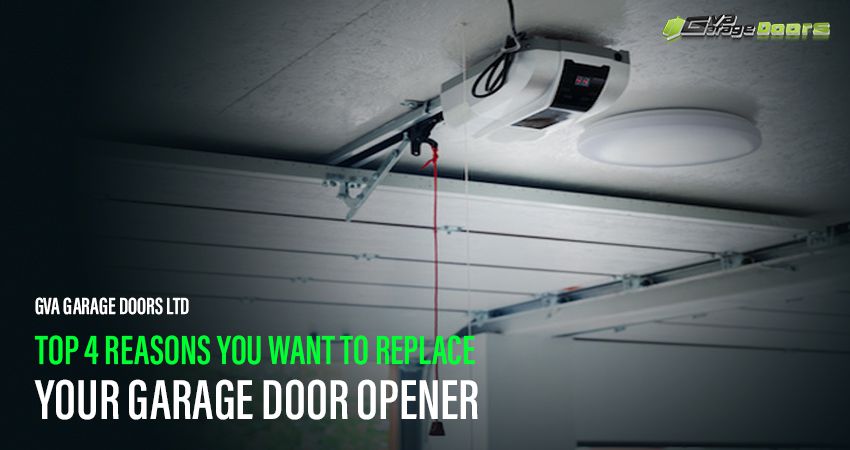 Garage door openers are very simple mechanisms that are likely to last long. The normal lifespan of a garage door opener is 10-15 years, but if you take proper care of the rollers & springs, it is feasible to get 20 or more years of use from it. Even if your garage door opener is still working fine, there're many good reasons to consider replacing it with a modern one. Latest models provide increased security, safety and convenience, and these benefits may well be reason enough to consider a new garage door opener.
Here are the top 4 reasons you want to replace your garage door opener:
Automatic reversal:
Since 1993, garage door openers have been needed to be equipped with a safety reversing appliance. This feature uses 2 sensors approximately 6 inches above floor level on both sides of the door. When any object, such as a pet or child, runs through the light beam passing between these sensors while the door is closing, the door instantly stops & reverses direction.
If your garage door opener doesn't have a safety reversing feature, or if the one it does have no longer functions, replacing the opener is very critical as a precautionary measure.
MOST READ: WHAT ARE THE 3 CHALLENGES HOMEOWNERS FACE WITH THEIR GARAGE DOORS?
Quieter operation:
Does your overhead door opener disrupt people as it makes excessive sound? If yes, then a new garage door opener is what you need. Screw drive garage door openers are notably quieter, and belt drive openers are the quietest of all.
Improved security:
Older overhead door openers can be susceptible to intruders. Since their remote controls functioned with a pre-set code, someone with a special device may be able to sit outside your home and find the code, letting them to open the overhead door.
Latest garage door openers come equipped with a "rolling code" feature, which changes the code every time the unit is used. Intruders can no longer replicate the code & get into your garage without invitation.
Keypad entry:
Older model garage door openers didn't provide keypads that could be installed outside the garage. This useful feature lets you enter a code into the keypad that'll open the overhead door. No keys needed. You can even purchase a keypad to install with your existing garage door opener.
When it comes to prompt Garage Door Repair Coquitlam you don't need to look anyone else than GVA Garage Doors. We are the best no matter what kind of garage door issue you are facing. We may also suggest Garage Door opener Repair Coquitlam if it is repairable.
---
Source from: https://gvagaragedoor.wordpress.com/2021/04/29/top-4-reasons-you-want-to-replace-your-garage-door-opener/
---